Smokin Paper, Commercial That Is...
Commercial Paper, uh. Yea. So I am leaving court on my way to class. I was
feenin
for some blueberry muffin tops from Atlanta Bread Company. So I am driving, bumping some Con Law. I notice a older Cadillac on my tail. I kind of ignore it and keep rolling on Poplar. So proceeding on, the
Cadi
still on me. I can't make out the driver cause the sun was behind me. So it's time for me to turn onto the lot of the Bread Co, and as I am getting into the turning lane, so does the
Cadi
. So I am scratching my head, do I know the driver, or is this just mere coincidence. Maybe all the Red Bull has a
brotha
a
lil
paranoid. I dunno. So I turn into the lot, and grab me a quick parking spot. I look up, and damn, the
Cadi
done pulled up behind me and stopped. Can't pull off, there is a parked car in front of me, and I still can't see the driver or passengers cause of the glare. Oh well, if a beat down is in store, at least I can get my muffin tops afterwards. So I get out the car, and
sho
nuff
the passenger seat rolls down, (so lets see, option a.) be a punk and run inside, safe with muffin tops., b.) act like I
aint
notice them and get jacked from behind., c.) be the hard negro and confront., or d.) be the helpful negro and ask, may I help you?.
Hmm
......damn multiple choice sucks. So.........hmmmm.....uh.....D? The window rolls down and the driver is a elderly white woman and what appeared to be her two sons. So now, I'm somewhat off guard, not sure what to expect. The lady says, I just wanted to tell you that I love your bumper sticker, and can you tell me where I can get one? I had to laugh and shake my head for a second. So I put on my
of late
,
rarely
used polite Cali voice, and told her, I was sorry, but I made it myself back in Cali. She smiled back and said, well I sure would like to have one, that guy is a nut. I agreed with her, thanked her and got those needed muffin tops. Normally, folk will pull up beside me and honk their horn and throw their thumbs up. Not to mention those
occasional
times where a driver will pull up and throw the bird at me. I kind of like those
occurrences
more, but I digress. Oh the sticker says,
This is kind of funny.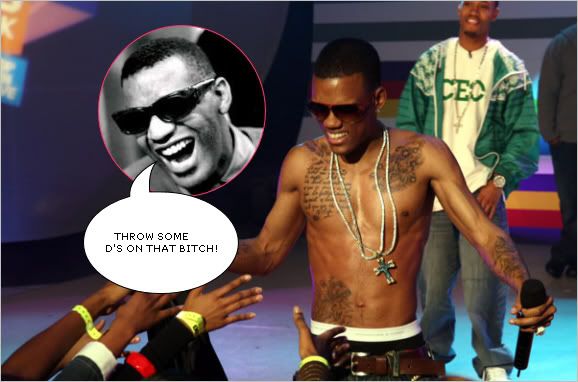 Oh it's Black History Month
aint
it.
Hmm
......
ok
........ Here's an article relevant to this month.
http://www.nytimes.com/2007/01/26/education/26affirm.html?ex=1170478800&en=71b7f49141

ebc

5e7&

ei

=5070
Black History Month Quiz? Do you know who this nut is?
Naw
he
aint
my uncle or nothing......
If you don't know who he is, here you go,
http://www.campusprogress.org/tools/230/